Which Wordpress Plugins Do You Use?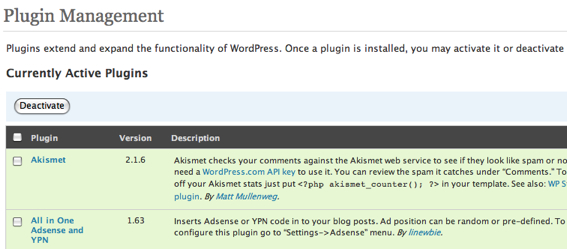 As I switched back to wordpress, I had to go on a hunt for the niftiest plugins again. These are what I use:
Akismet
Akismet checks your comments against the Akismet web service to see if they look like spam or not.
My Comment: it works, nuff said
All in One Adsense and YPN
Inserts Adsense or YPN code in to your blog posts. Ad position can be random or pre-defined.
My Comment: allows me to keep my adsense ads even when I change templates. (At the moment the ads only show up on single posts)
All in One SEO Pack
Out-of-the-box SEO for your Wordpress blog. By Michael Torbert.
My comment: I might actually build this into the templates themselves… no need to burn extra CPU cycles
Extended Comment Options
This plugin allows you to switch comments and/or pings on or off for batches of existing posts.
My comment: I don't really know if I'll ever use this. It came with my default install and I might be deactivating it soon
FD Feedburner Plugin
Redirects all feeds to a Feedburner feed By John Watson.
My comment: Works fine, people can still subscribe to marc-seeger.de/feed and feedburner will give me the stats.
Google XML Sitemaps
This plugin will generate a sitemaps.org compatible sitemap of your WordPress blog which is supported by Ask.com, Google, MSN Search and YAHOO.
My comment: Seems to work fine
OpenID Delegation
Adds OpenID delegation to a WordPress blog allowing users to authenticate/signin/signup to OpenID supported sites with their blog's URL.
My comment: Works fine, it would be nice if this could be combined with WP-OpenID into a single plugin
Random Tagline
Display a random tagline from a quotefile instead of your fixed tagline.
My comment: useless, but fun… maybe I'll deactivate it in favour of page loading times
Redirection
A redirection manager By John Godley.
My comment: seems to be pretty decent. I need this because of all the blogging engine switching :)
Semmelstatz
Besucher-Statistik fuer das Wordpress-Backend By Redunzl Semmelmann.
My comment: awesome!
Sociable
Automatically add links on your posts to popular social bookmarking sites. By Joost de Valk.
My comment: I might simply add this to the template or use ShareThis , no need to waste CPU cycles.
Subscribe To Comments
Allows readers to receive notifications of new comments that are posted to an entry.
My comment: that's what I usually missed on the other blogging engines
Twitter widget
Sidebar widget to display your Twitter timeline. The widget allows you to choose to display your twitter username in front of your updates. You can also choose whether to display the time before or after the twitter post. By Sarah Isaacson.
My comment: Yes, I sometimes use twitter!
Wordpress Automatic Upgrade
Wordpress Automatic Upgrade allows a user to automatically upgrade the wordpress installation to the latest one provided by wordpress.org using the 5 steps provided in the wordpress upgrade instructions. Go to Wordpress Automatic Upgrade to upgrade your installation Thanks to Ronald Huereca for making the plugin run in automatic mode.
My comment: I am lazy…
wp-cache
Very fast cache module. It's composed of several modules, this plugin can configure and manage the whole system.
My comment: should be worth it as soon as there is another heise backlink or something similar :)
WP-OpenID
Allows the use of OpenID for account registration, authentication, and commenting.
My comment: Would be nice to combine this with OpenID Delegation.
Und das Stöckchen geht testweise mal an Dirk and Michi, was nutzt ihr denn so?